Featured Product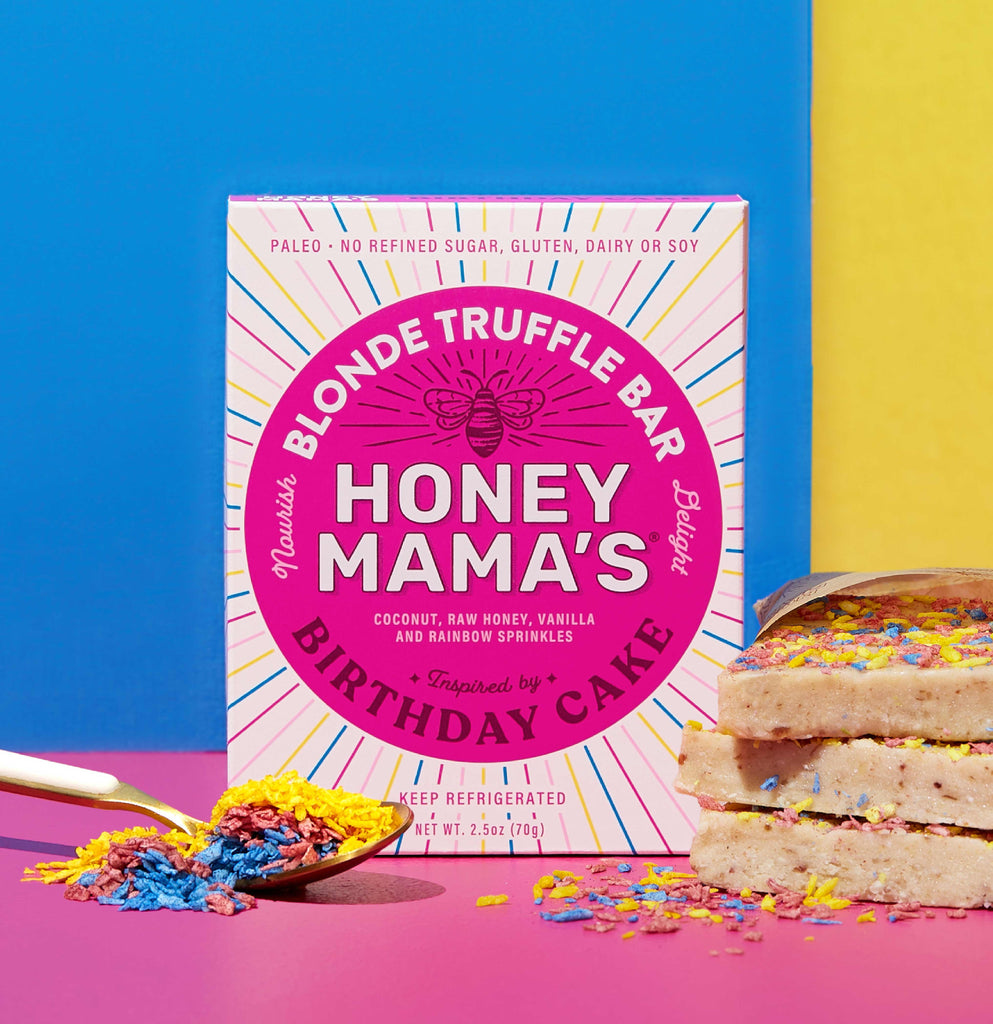 Birthday Cake
Shop Now
This creamy concoction tastes amazing sandwiched between just about any type of cookie you can imagine, but I really love using it as the filling for vegan macarons. Macarons are not the easiest thing in the world to make--as a matter of fact they can be quite maddening to perfect--but I've had the most success with this recipe. Try not to be discouraged if you don't nail it on the first try! Even if they aren't visually perfect, chances are they will still taste great. 
Ingredients
Macarons:
125 grams aquafaba (reduced
liquid from canned chickpeas)
1/4 tsp. cream of tartar
100 grams caster sugar
100 grams superfine almond flour
100 grams powdered sugar
1/4 tsp. vanilla extract
Confetti Cream:
2 Honey Mama's Birthday Cake
Blonde Truffle bars, chopped
1 T. coconut milk
Directions
To make macarons:
1. Start by reducing your chickpea liquid to make aquafaba. Drain two cans of chickpeas, reserving the liquid. Pour the liquid into a saucepan, and place over medium heat. Bring to a boil, then reduce heat to a low simmer.
Continue simmering until the liquid reduces by half. You should end up with 125 grams of aquafaba, or about 3/4 cup. Place in the refrigerator to cool overnight.
2. Sift the almond flour and powdered sugar into a bowl. Set aside. Grab a mixing bowl (or the bowl of a stand mixer) and wipe it with a clean towel to make sure there is no residual oil. Add the aquafaba and cream of tartar, and whip at low speed until the mixture starts to look opaque.
Gradually raise the speed to medium, whipping until it starts to gain volume. Add the caster sugar, 2 T. at a time, increasing the speed to high once it is all incorporated, and continue mixing until the mixture becomes white and glossy, and stiff peaks form. This usually takes 5-6 minutes, but can take up to 10 minutes, so be patient.
Once you have achieved stiff peaks, add the vanilla extract. You'll know you have reached the perfect consistency when you can turn the bowl upside down without the mixture moving.
3. Add half of the almond flour mixture to the whipped aquafaba, and gently fold by hand using a rubber spatula.
Add the remainder of the flour and keep folding gently by hand until your batter has the consistency of "lava", meaning it will hold its shape when it falls from the spatula, but spreads slowly and evenly—smooth, with no lumps—once it hits a flat surface.
4. Gently transfer the batter into a piping bag fitted with a round tip. Line two half-sheet pans with parchment paper or silicon baking sheets. I like to use these silicon sheets with round outlines as I feel like it really helps me apply the batter in perfect circles.
Once your sheets are ready, hold the pastry bag parallel to the baking sheet, applying pressure to the bag, and begin to pipe the batter. Stop applying pressure just before you reach the end of the circle and twist your hand slightly inwards to keep from creating a "tail". Repeat with remaining batter.
Once all batter has been used, gently tap the baking pans on the countertop to smooth the surface on the mararons and release any air bubbles. Feel free to use the tip of a toothpick to pop any stubborn bubbles; you want the surface to be completely smooth.
5. Let the macarons sit at room temperature for about 30 minutes, or until you can touch the surface without transferring any batter to your finger. They should be slightly dry on top, with a bit of a skin.
This may take up to an hour in a more humid environment. Towards the end of the resting time, preheat the oven to 300 degrees F.
6. Bake the macarons on the middle rack of the oven, one tray at a time, until they puff up, forming a "foot" on the bottom, and the surface is dry and shiny. This takes about 18 minutes.
Cool the macarons completely on the tray before attempting to move. If they stick to the silicone mat after they have cooled, they are likely undercooked. You can put them back in the oven for a couple of minutes if this happens.
7. Store in an airtight container, layers separated with pieces of parchment paper.
To make Confetti Cream:
1. Chop Honey Mama's Birthday Cake bars and place inside a heat-proof bowl. Heat coconut milk to just under a boil and pour over the chopped pieces. Let sit for 30 seconds, then stir gently until mixed.
Scoop into a piping bag with a fluted tip, and pipe onto the flat side of one macaron. Sandwich another macaron on top. Repeat with remaining macarons and cream.
––
Featured Product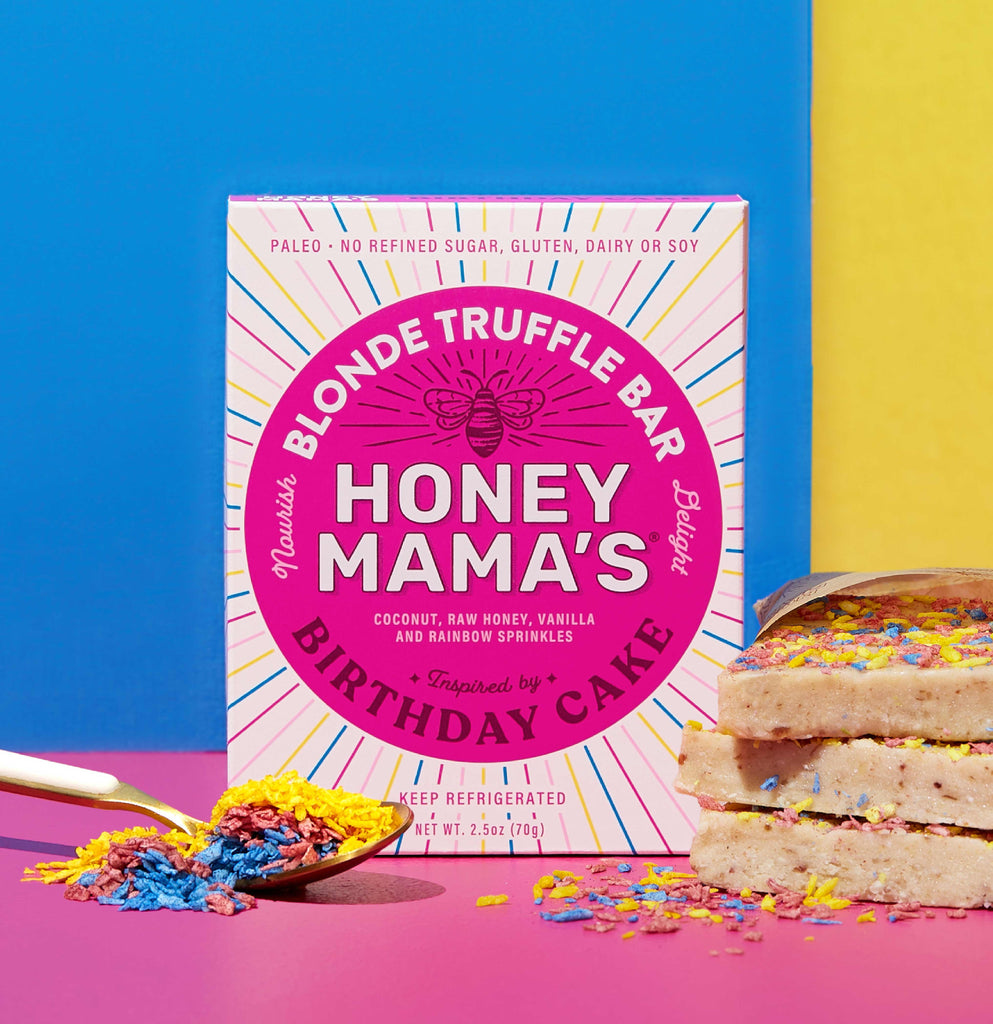 Birthday Cake
Shop Now