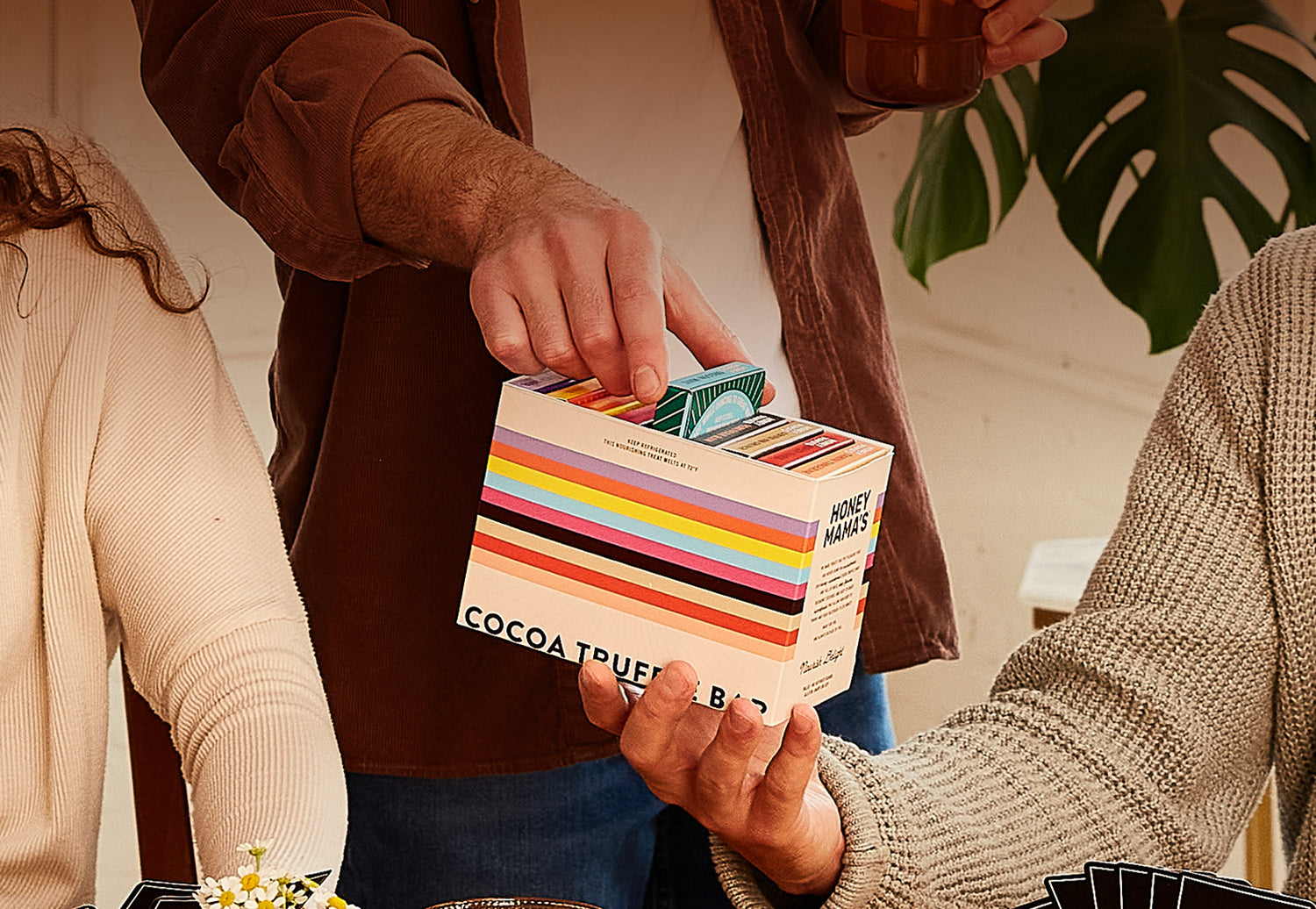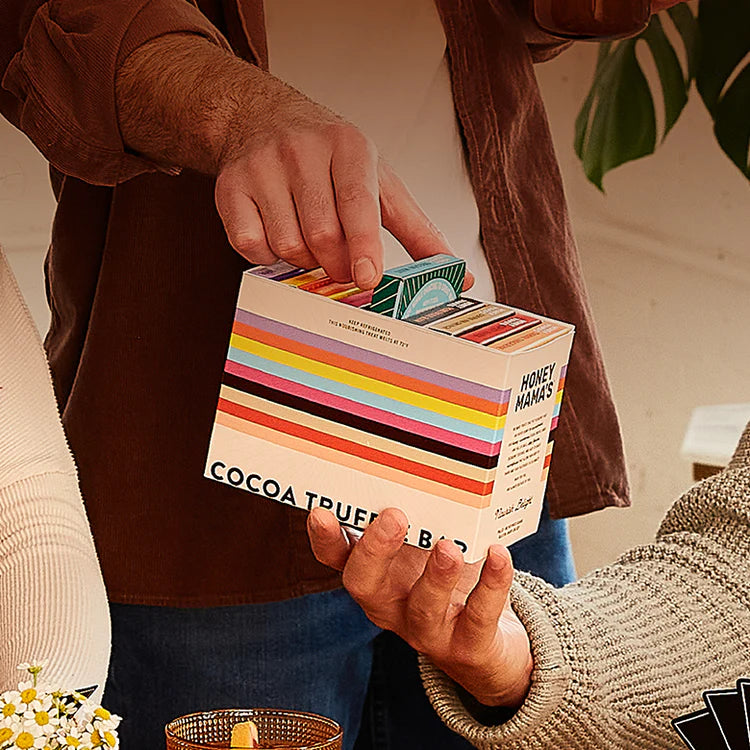 Frequently Asked Questions
Feeling curious? Browse answers to our most common questions below.
What is Honey Mama's?
Honey Mama's is the Portland, Oregon-based maker of delicious refrigerated raw honey-sweetened truffle bars!
Honey Mama's is beloved for its one-of-a-kind texture, often compared to brownie batter, chocolate truffles, or fudge – the real treat is discovering each bar is made from only a limited number of nutrient-rich whole food ingredients.
Setting the gold standard for what it means to be a clean label treat, all Honey Mama's products are free from refined sugar, gluten, dairy, soy, stabilizers, emulsifiers, and additives.
Just imagine your favorite candy bar went to a meditation retreat and came back enlightened!
So, is it chocolate? 
While they may taste like the BEST chocolate you've ever had, Honey Mama's is actually is a unique honey-sweetened treat!
To be called "chocolate", products must contain a specific amount of chocolate liquor and cocoa butter, which Honey Mama's does not use.
Instead, Honey Mama's Truffle Bars start with a base of organic raw honey and cold-pressed virgin coconut oil swirled together with dark cocoa powder. This combination give our bars a soft, fudge-like texture that melts in your mouth like a creamy chocolate truffle.
Traditional chocolate also uses an emulsifier (such as soy lecithin) in order to be shelf stable. Honey Mama's bars do not contain any food additives, and instead use cold temperatures to keep from melting. This is why Honey Mama's is refrigerated and not shelved with other chocolate.
Where do I find Honey Mama's bars? 
Honey Mama's bars are sold in the fridge at over 8,000 stores nationwide, including Whole Foods Market, Sprouts, and Target. You can also purchase select Honey Mama's bars right here on our website to ship directly to you.
Why are Honey Mama's bars refrigerated? 
Honey Mama's are a unique, whole food treat made without any shelf stabilizers or preservatives.
The base of every bar is organic raw honey and organic virgin unrefined coconut oil. These two magical superfoods give Honey Mama's their unbelievable soft fudge-like texture. However, without the use of stabilizers, these two ingredients soften at room temperature.
We use cold temperatures to keep Honey Mama's in their bar form, so be sure to always pop them back in the fridge between use. Besides, isn't chocolate always better cold anyway?
Do Honey Mama's bars spoil if they are not refrigerated? 
No! The ingredients in Honey Mama's bars do not support microbial growth and therefore do not spoil.
If your bar is soft or begin to melt, they are still safe to eat however you may notice oil separation. This is the organic unrefined coconut oil starting to melt at temperatures above 72 degrees. Place your bars back in the fridge to firm them up.
Where is Honey Mama's in the grocery store?
Honey Mama's is located in the fridge. Most often, you'll find them near Perfect Bar or refrigerated protein bars, in addition to other fresh desserts, bakery, produce, yogurt, or grab and go snacks.
If you're really struggling to find Honey Mama's in a store that shows as in-stock, please email us at support@honeymamas.com or message us on social media.
Which stores carry Honey Mama's?
We're now sold in 8,000 stores nationwide!
Whole Foods Market, Sprouts, and Natural Grocers carry Honey Mama's in all stores across the United States.
You can also find us at select Target stores, The Fresh Market, Stop & Shop, Wegmans, Giant, Harris Teeter, Fresh Thyme, and more. Use our store locator to enter your zip code and find a store close to you.
What is Honey Mama's shelf life? 
Honey Mama's have a shelf life of 7 months. This ensures your bars remain soft and delicious.
After the expiration date, you may notice your bars are a little dryer, crumbly, or have less flavor. For the best Honey Mama's experience, we recommend checking the expiration date on the back of your bar to see when yours is set to expire!
How long do Honey Mama's bars last outside of the fridge?
Honey Mama's bars should only be left outside of the fridge, or a cool and dry area, for as long you're enjoying them. While they will not spoil or go bad, leaving Honey Mama's outside of the fridge will result in melting (and mess!).
When will my order ship?
Important: Honey Mama's orders only ship Monday - Wednesday. This is to ensure your order arrives cold and in perfect condition!
If your order is placed before Wednesday at 10am PST, it will most likely ship in the same week.

Orders placed after Wednesday at 10am PST will ship the following week.

If you need Honey Mama's sooner, visit our store locator page to find in the fridge at a store near you.
Can I ship to a P.O. Box?
No, we are unable to ship to P.O. boxes. This is due to the refrigerated nature of our products.
Honey Mama's Truffle Bars are sold in over 8,000 stores nationwide. You can find a store near you on the 'Find Us' store location page.
Can I find Honey Mama's outside of the United States? 
No, Honey Mama's are only available in the U.S. at this time. As we grow, we are hopeful to become available in other countries. Sign up for email and follow Honey Mama's on social media to be first to know when we expand to new places.
How do I bring Honey Mama's on the go with me?  
If you're traveling with Honey Mama's on the go, we recommend freezing your bars before departure and keeping them in an insulated container with ice packs. This will make sure your bars arrive with you in the very best possible condition.
My Honey Mama's bar is past its expiration date. Can I still enjoy it?
Yes! Honey Mama's ingredients do not spoil, so your bar is still safe to eat past the expiration date. However, it may be missing the soft, melt-in-your-mouth texture that makes Honey Mama's bars so special. To prolong freshness, you can store your bars in the freezer and bring out one at a time when you're ready to indulge!
How can I make my Honey Mama's bar stay fresh for longer? 
We recommend freezing your bars to keep them fresh for longer! A good rule of thumb is up to 1 year in the freezer. The longer you wait to enjoy your bars, they may start to become dryer or crumbly rather than the luscious, fudge-like texture that melts in your mouth.
Do Honey Mama's bars contain sugar?
Honey Mama's are sweetened with organic raw honey, nature's crown jewel of nutrient-rich natural sweeteners.
When our founder, Christy Goldsby, was creating her recipe for the first Honey Mama's bar, she chose honey because of how it made her own body feel. Honey has been prized for thousands of years for its medicinal properties and nutrient density. We love everything about this amazing food!
Honey Mama's bars contain 7g of sugar per serving from raw honey.
We do not use refined sugar or sugar substitutes such as stevia, aspartame, or erythritol.
What are the nutrition facts for a Honey Mama's bar?
Honey Mama's contains 3 servings, with score marks identifying a single serving on each bar.
One serving of Honey Mama's is between 118–130 Calories depending on the flavor.
Some bars contain nuts, while others contain coconut or sesame seeds. Please visit the product detail page for the specific flavor you are interested in learning about.
Still searching for answers? Send our support team a message below! We will be in touch in 2–3 business days.